So, how does the floating license work:
– Because our plugin is not your main program, we can not make decision about allowing you the work with it or not when starting the Revit.
– So, we allow everyone to see the plugin tools available from the beginning, but after you try to start using the plugin (and if there are no empty seats), the plugin tools will be disabled and the Access Control button appears
– By clicking this button you will see the name of the user is currently working with the plugin, and you will be able to kick him out and continue to work with ENVIRONMENT on your machine.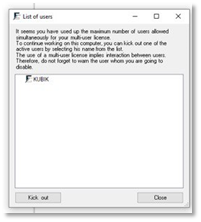 – After that, when the person you kicked out tries to use the plugin, he will get his ENVIRONMENT Tab disabled as well. So now he can kick you out and get the access to the plugin back.
– There is no limitation on how many times you will do it while Revit session.
This is the solution that we developed for very small offices or for architects, witch don't need access to the plugin all the time.
For larger practices, I would suggest checking our corporate license.